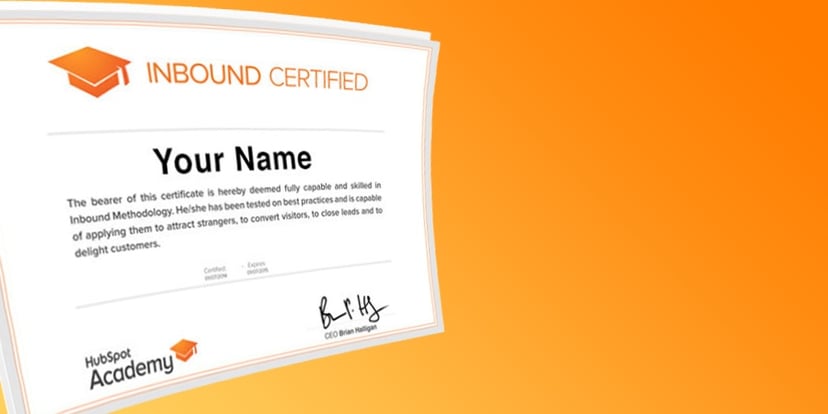 A lot of marketing professionals hate industry certifications. Continuing education? Who needs it! Licensing? Do I really have to? Certifications? Too much work!
One of the brilliant things about marketing is that it's one of the least credentialed industries out there. To enter the field of marketing, there are numerous ways to get started, and very few regulations limiting entry.
Yet, even if they're not required, certifications in marketing can be a huge asset—partly because so few marketers maintain any credential of their expertise.
Since 2009, HubSpot Academy—a marketing resource center by HubSpot—has offered the inbound certification to the broad public in recognition that no academic marketing program today provides in-depth, methodological training on how leads are generated using inbound marketing. Since its start, the inbound certification has only improved, and it's now one of the best entry-level credentials in marketing available for free.
If you talk to anybody who's actually taken it, you'll find they're never disappointed. The inbound certification is the kind of training for professionals looking to grasp a bolder, more aggressive strategy for business growth.
Today, I'll cover my top six reasons for why any marketer should take the inbound certification and discover a better approach to taking their company to market.
1. It's the best introduction to inbound marketing available online
Let's state the obvious. During the certification, you'll learn the basics of Inbound marketing in terms of planning, modern SEO, content strategy, content distribution, social media optimization, marketing analysis, and much more. It's an overview certification for the full scope of inbound marketing, and that's certainly what you'll get.
As the inbound certification training emphasizes, the formula for inbound marketing is simple: context plus content. But there are a lot of moving parts in inbound marketing that facilitate context and content, and the inbound certification helps you see just how much work effective inbound marketing really is.
2. The certification helps you define (or refine) your company's targets
I am sure you already use a lot of best practices to market your product or service online, but one of the best reasons to get inbound certified is to learn how to target your prospects even better than you are now.
Your "personas" are the representations of your ideal customers based on research and data. They are not target markets or specific persons. You first want to know the personas that are waiting for your content, grab their attention and educate them. It all comes down to a virtuous circle: you need to know who you will interest, grab their attention, and let them get to understand you and trust you. They'll give you more information about themselves that you can use to build more personas to attract… Not rocket-science, is it?
3. You'll learn the connections between strategy and technology
Inbound marketing is a digital strategy, so it relies on good use of technology as much as it relies on strategy. Your teams need to work together, aim toward common goals and align around the same objectives, which often means operating using the same technology.
The inbound certification isn't just for HubSpot users, but it certainly describes how an all-in-one technology platform like HubSpot's sales and marketing "growth stack" helps marketers, salespeople, and other stakeholder teams focus on the same business development strategy.
4. The certification teaches the language of digital lead generation
What if your boss came to you asking: "Hey, we don't have enough MQLs and the sales team couldn't convert enough SQLs into opportunities this month. Can you change our CTA linking to the bottom-of-the-funnel landing page for tomorrow, to see if we can spark more decision-stage leads?"
Inbound marketing has its own language, just like any approach to marketing, and in order to get the strategy behind it all, your team needs to adopt the same linguistic mindset. Inbound certification helps with this by teaching the underlying concepts, how to use them, and how every piece of the puzzle comes together.
If you want to avoid misunderstandings between the sales and marketing teams, getting everybody to take the certification training can be a huge help.
5. In an industry with few credentials, this one means a lot to employers
So, you have a Bachelor's degree or MBA in marketing, but your professors never mentioned the terms inbound marketing, right? You're not alone.
Maybe you don't even have a marketing degree; that's not unusual either!
In an industry, like marketing, with very few credentials, achieving an on-paper kind of certification like HubSpot's is a quick way of showing your boss—or even a potential employer—that you know something. Getting inbound certified is a good way to teach yourself the basics, and shows that you're interested in developing as a professional. It is hugely valuable for your career to prove that you are proactive, and good enough to pass a certification.
6. It's a way to build a sense of theoretical expertise quickly
Say you already have a lot of digital marketing experience, and you get why inbound marketing has so much promise for your current company. A very frequent problem is that your boss doesn't quite get it. Instead, he's a non digital-friendly boss who pushes the "no" button at every single one of your suggestions.
By getting certified in inbound marketing, you can begin to sell the knowledge you already have by filling in the gaps and putting the credential down on paper (or your LinkedIn profile). It can be a great talking point for selling your boss on the potential results of an inbound marketing strategy.
With a certification, you'll be seen as an expert yourself and your boss may be more willing to let you try out some of your ideas. As an initial baby-step, you can implement the "best practices" presented in the training at your workplace, and it won't take long for others on your team to notice the positive effects.
Why not get certified? It's free!
I have a bonus reason for you: the inbound certification is free. So, seriously, how could you say no to free, accessible knowledge, backed up by one of the world's best marketing companies, HubSpot? If it is not enough, or too theoretical for you, feel free to take one of the nine other HubSpot certifications available, and see how well you perform!