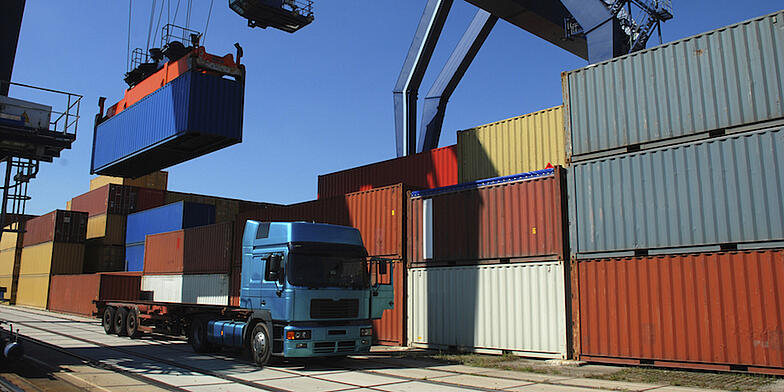 As Inbound Marketers, we all strive to rank 1st in organic search results so we're found first and ahead of the competition. But what is the value of holding this coveted spot for your most fruitful keywords? A new study from online ad network Chitka highlights some very compelling findings that after search position number one the chances of getting the user to click-through to your website diminish dramatically, especially after page one of the search results.
Sure, we've known this is true for quite some time but Chitka's most recent findings further validate the importance of SEO for businesses striving to build a strong online marketing presence. Lets get into the details!
Percentage of Website Traffic Based on Google SERP Rank
You'll see in this first chart below that the average percentage of traffic from the Google results page drops from roughly 33% to 18%, when going from position number 1 to position number 2. It continues to drop after these top 2 positions but not as drastically, further illustrating what it means to rank first rather than second.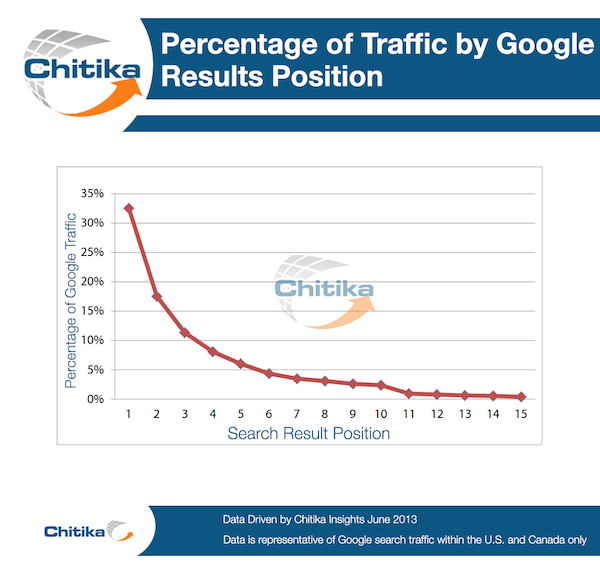 Percentage of Google Traffic by Results Page
The next chart illustrates just how crucial it is in today's world of short attention spans and need for immediate results to appear on page 1 of search results. The stats don't lie: page 1 in Google receives 91.5% of all traffic compared to only 4.8% on page 2 and 1.1% on page 3. If you want a piece of the larger pie you need to be on page 1.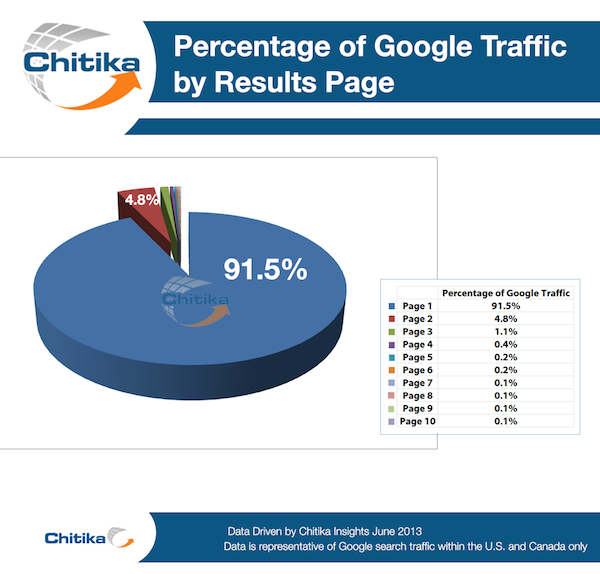 The Share of Organic Clicks by Rank
In addition to Chitka's findings from their June 2013 report, I think it's also important to see the share of clicks the top organic search listing receives and how this drops for lower ranking sites. Included here is a chart from Compete.com's report from late last year which shows 53% of Google's organic SERP (search engine results page) clicks go to position number 1.
Another compelling stat highlighted in this chart is the fact that 85% of SERP clicks are for organic listings compared to paid listings such as PPC ads, which now only receive 15%. For those like our team here at Weidert Group, who preach the importance of a disciplined Inbound Marketing approach, this clearly points to the fact that thinking and acting like a publisher of consistent and quality content is more important than ever in order to rank favorably in Google.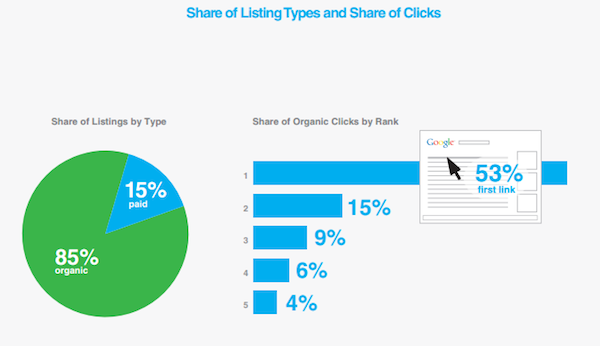 So, whether you're a B2B or B2C company, what are you doing now to ensure you're climbing to the top of the search ranks for realistic yet fruitful keywords relevant to your business and industry? And how do you plan to maintain that rank? You also need to be thinking about how you plan to convert that traffic into leads once they land on your website.
If you're not sure what to do next, start by downloading our free comprehensive guide: The SEO Survival Guide. It's packed with relevant tips and processes for modern SEO and will guide you on where to start with addressing your own needs and goals.