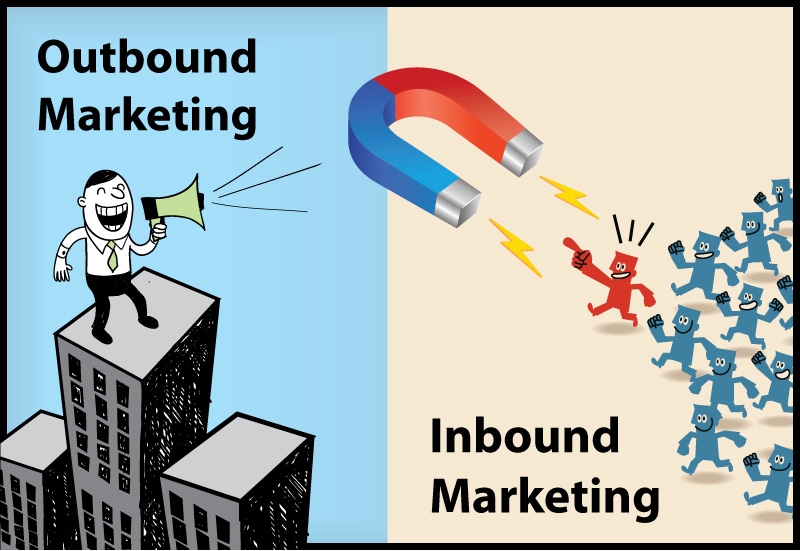 If you've considered implementing an inbound marketing approach in your business, you more than likely have a wide array of questions. Should you work with an agency or can you handle it in-house? How much does inbound marketing cost? Will you have to completely abandon the traditional approaches you've been using? Is inbound marketing really worth it? What exactly is inbound marketing, anyway?
Inbound marketing is all about creating and sharing content that is specifically designed to appeal to your ideal customers, pulling them toward your business, where they naturally want to be. Your content should work to attract qualified prospects to your business – and keep them coming back for more!
The HubSpot inbound methodology chart spells out the four actions of inbound marketing and showcases the tools that are used with each action. You can actually see the journey that takes people from strangers to promoters of your brand: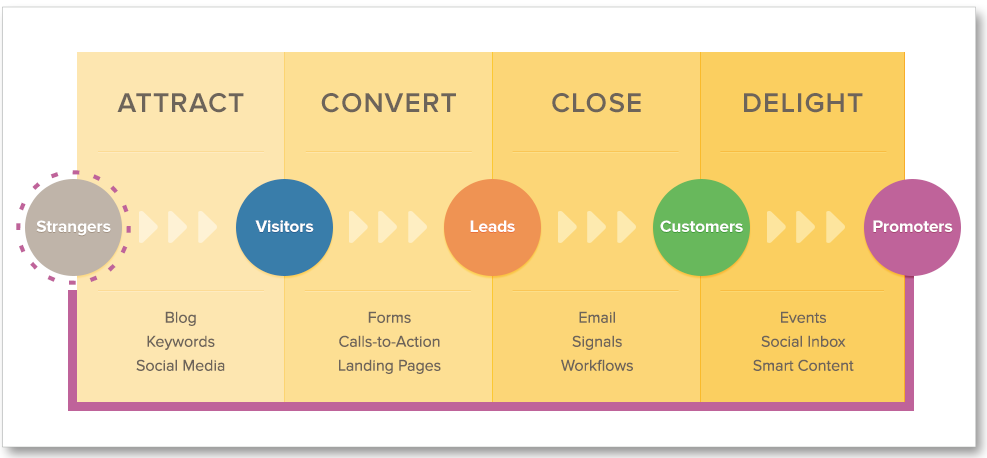 Once you get to know the inbound marketing methodology, it's easy to see why traditional (or "outbound") methods are, well…on the way out. Think about it: there's really no way to effectively target something like a TV commercial or a billboard. Sure, you can air the commercial on certain stations at certain times or get a billboard in a very specific part of town, but there's still no way of knowing who's seeing it or whether those views are producing qualified leads.
If you just can't let go of certain traditional marketing methods, don't let that scare you away from inbound marketing. Implementing an inbound approach doesn't necessarily mean you have to quit your outbound approaches cold turkey – or even altogether. In fact, inbound and outbound marketing can coexist peacefully.
True, inbound marketing does aim to take the emphasis off of outbound approaches, but in some cases, traditional marketing methods continue to be relevant and important. Specialty manufacturers, for example, continue to benefit greatly from outbound approaches such as participating in trade shows and getting involved in industry groups or professional organizations.
So, how exactly can you use both inbound and outbound marketing together? Let's say you're a B2B specialty manufacturer who is going to attend a tradeshow to showcase your custom products. Here's how your traditional outbound approach might look and how inbound can help:
The Outbound Approach
You'd likely set up a booth at the tradeshow featuring samples and information about your products. You'd feature a designated area at your booth for interested parties to fill out forms for free estimates and provide business cards to anyone who shows interest in your products.
Adding an Element of Inbound
Promote the fact that you'll be attending the tradeshow on your social media channels and within industry forums and online networking groups. Send an email to those of your contacts who are likely to attend the tradeshow encouraging them to visit your booth. Let them know what they can expect to find at your booth and include a piece of downloadable content so your contacts can start seeing the value of your business. At your booth, feature an area for interested parties to sign up with their email address for a piece of your advanced content, such as a case study or a cost-savings worksheet. After the tradeshow, follow up with nurturing emails to your new contacts.
If your industry still tends to rely on certain traditional marketing methods, don't feel as though you can't use inbound marketing, too. Use the two together to bring your outbound methods up a notch, and nurture your customers throughout their journey of the buying process!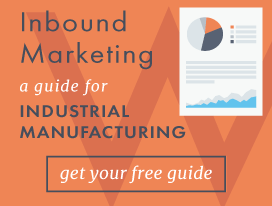 Topics: Inbound Marketing

Written by
Laura Sheptoski
Laura is a detail-oriented consultant and project manager, with a background in public relations, social media engagement, and client content creation. Prior to her time at Weidert Group, Laura managed PR for an industrial services company, and maintains a strong focus on earned media within our inbound marketing programs.