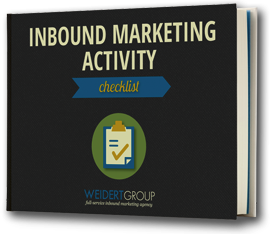 The various activities required to keep your inbound marketing efforts finely tuned and at peak performance can be overwhelming if you don't have a process in place for tackling them.
By downloading our Inbound Marketing Activity Checklist, you'll learn how to quickly accomplish the essential tasks necessary to get the greatest results from the time invested each day. In addition, we've also included steps for your website, blog and social media that'll help you efficiently provide content to your prospects and create opportunities to convert those prospects to leads.
To learn how to manage your essential inbound marketing tasks in 45 minutes or less each day, simply fill out the form to the right, and download your FREE checklist.