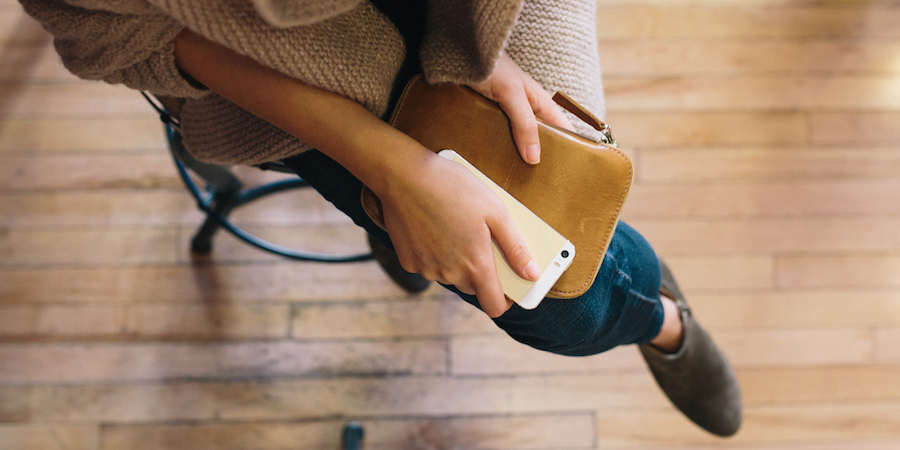 The best way to think of Pinterest, if you're not familiar with it, is as your personal or business bulletin board – it's where you pin pictures of things you like: your style, your interests, your aspirations…anything you can represent with images from the internet.
Pinterest also happens to be the hottest social media network, with growth in the past 6 months of over 4,000%. And people aren't just taking a peek at the site and leaving; the average visit is more than an hour – Facebook is about 16 minutes, LinkedIn about the same.
How Pinterest Works
Pinterest users share photos they find online by "pinning" them, the equivalent of "liking" on Facebook. To pin, users download a toolbar that grabs the image and identifies the source site. Once your pins are on your board, users who follow you, like Facebook friends, can see what you've pinned. If they like one of your pins, they can re-pin it to their own board.
Now that you know what it is and how it works, how can you use Pinterest to promote your business?
1. Market Your Products. Create a Pinterest account for your business and pin images of your own products to your board – there's even a space below each pin to describe the image and briefly outline its features and benefits. Your business can have multiple boards, allowing you to group products by theme, size, features, etc. Essentially, you're creating an online product catalog.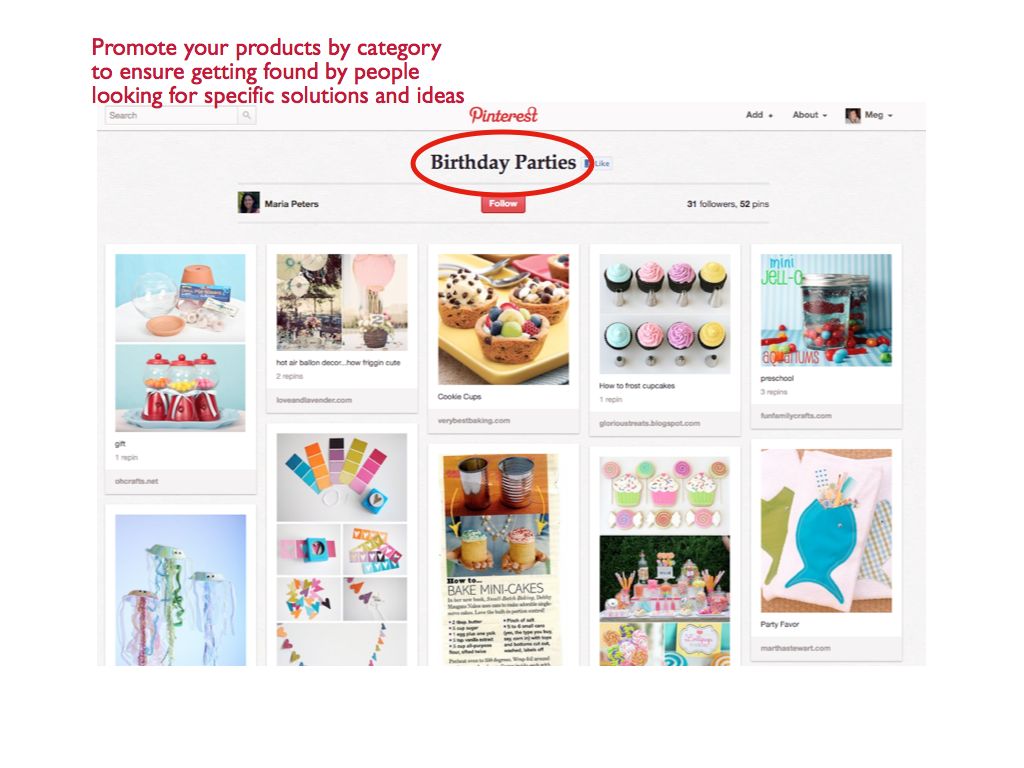 2. Lead Prospects To Your Website. A feature allows you to add a price tag for any item you pin; you can then add a link pointing back to your website so viewers can learn more or purchase. When you add a price tag and link to your site, you're automatically added to Pinterests "Gifts" page; users can click on "Gifts" to find great gift ideas grouped by price ($1-$20, $20-$50, etc.) These links to your site help your off-page SEO and drive quality traffic to your site.
3. Showcase Your Services. Don't have a product to sell? You can still promote your business by creating a kind of visual resume on Pinterest. If you design landscapes, for instance, post pictures of your installations; if you're an interior designer, post pictures of your favorite rooms.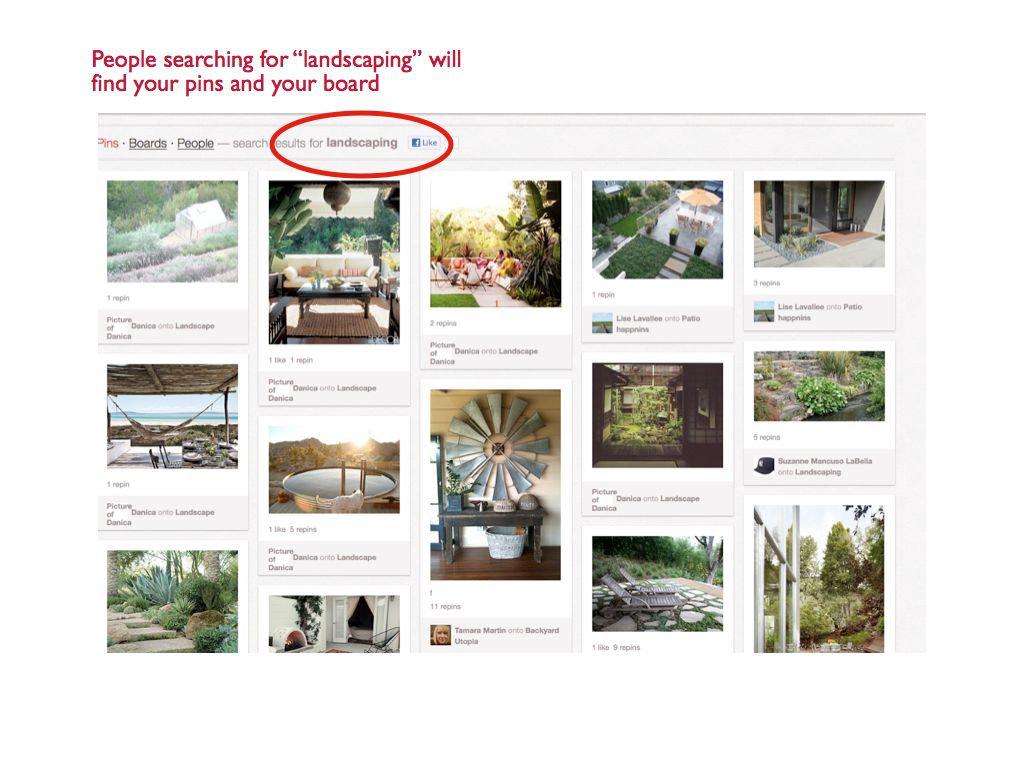 4. Improve Your SEO. When you pin with a price tag and link to your site, you're creating important "back links" that pull people to your site (all pins link back to their source site, but pins with a price highlight that you're selling the product). Use the area provided to describe your product, and incorporate your keywords to pull in your most valuable targets. You can also share your pins on Facebook and Twitter, generating even more links to your site. Bolster your chances of getting traffic from Pinterest by offering followers something for pinning your photos:
• Ask users to pin an item as an entry into a contest; the more of your products they pin, the more entries they've submitted
• Offer them a special Pinterest User Discount if they go to your site and make a purchase
The more people re-pin your pictures, the more buzz you'll create in the Pinterest user community, and most likely with the people most interested – and likely to buy – your products.
5. Be A Resource. Present your product or service within the context of a larger solution. Say you're a small company that makes custom window treatments; help prospects by showcasing more than just your products – pin other, related products that fall within the overall category of interior design (wallpaper manufacturers, artwork retailers, paint manufacturers, etc.). This way you'll be viewed not as a company selling one type of product, but as a valuable resource for home décor inspiration and solutions.
6. Engage With Users. Pinterest is a social network, so take the time to form relationships with other users and to build a community around your brand:
• When you see that users have re-pinned your items, comment and say thanks
• Start following Pinterest users who show an affinity to your product or service, and this will encourage them to follow you in return
• Ask for customer feedback by encouraging them to re-pin their favorite products in your catalog
Like any new social media network, it'll take time to get up to speed finding and interacting with your target. But as the only visually based networking site allowing you to tap into people's passion for specific products, this one's well worth the effort.
If you'd like to learn how to use social media to attract visitors to your website, download our free eBook.
Topics: Social Media
Written by
Meg Hoppe
Meg provides creative vision to all client projects and serves as the agency's chief content writer. She has extensive experience writing for a variety of industries, including manufacturing, financial services, and healthcare. Meg started in advertising and has become a thought leader in digital content creation and inbound marketing.