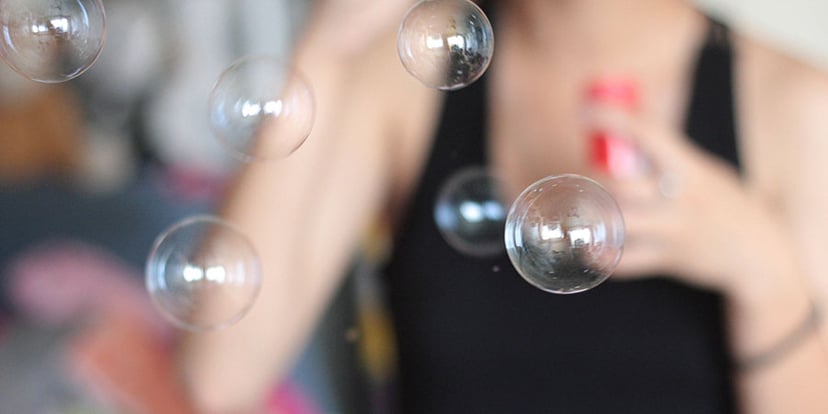 In March of 2011, Eli Pariser warned Internet users about the dangers of the online "filter bubble," which he defined as "the personalized universe of information that makes it into our feed." While the core of his message focused on how this personalization—defined by algorithms such as Twitter's newsfeed algorithm—is limiting to our worldview and fails to expose us to challenging viewpoints on an individual basis, his message also can be applied to B2B companies on social media.
While personalization takes on a whole new meaning when nurturing leads, your prospects' personalized newsfeeds or own "filter bubbles" make it difficult to attract them through various social media channels in the first place.
As you're laying out your social media strategy for 2017, it's important to think about which social media tactics (e.g. paid and organic) can help you break through these filter bubbles to increase visibility and engagement. Taking a look at LinkedIn and Instagram, we'll dive into several lead generation tactics to prioritize.
Where Are B2B Decision Makers?
According to Sprout Social, 89 percent of B2B marketers actively use LinkedIn, followed by Facebook and Twitter at 88 and 83 percent, respectively. However, these marketers' idea of which social channels are most effective tell a different story. While the majority see LinkedIn and Twitter as effective for lead generation, less than one-third see Facebook in the same light.
With this in mind, B2B companies will want to tweak their efforts on Facebook, Twitter, and LinkedIn (which we'll cover), while also considering ramping up efforts on the fastest growing social network—Instagram—as a way to break through the "filter bubble" and generate quality leads.
LinkedIn
Although LinkedIn users see the "top" or "recent" posts on the top of their newsfeeds, there are several simple ways to capture prospects' attention without being lumped into these categories.
Make prospect research a top priority. LinkedIn's Advanced People Search takes prospecting to the next level, especially for Premium users. You can find potential customers fits according to company size, seniority (role in company), and much more. This is a hyper-targeted way to find and reach B2B decision makers.
Publish long-form posts. Rather than competing "noise" and promotional content posted in many LinkedIn Groups, publishing long-form posts is a great alternative for establishing yourself as a thought-leader. Once long-form posts gather likes, comments and interactions, they'll be distributed beyond your immediate network, and members who aren't in your network can follow your posts. Talk about a useful tool for B2B lead generation!
Consider paid social. LinkedIn Ads such as sponsored content, InMail and text ads in the newsfeed sidebar makes it possible to target the right people with helpful content. These tactics take time and strategic thinking, but are authentic ways to attract followers and drive conversions.
With all of the tools at your disposal, it's no surprise why B2B marketers view LinkedIn as the most effective lead gen tool. Think about dedicating more time to these three areas to burst the dreaded "filter bubble" of your potential customers.
Instagram
As mentioned earlier, Instagram is exploding in popularity, but is still a relatively untapped social channel for B2B companies. This means there's less noise than other major social networks and great opportunity to separate your brand apart by using these three strategies.
Diversify content. Although all Instagram content is visual, companies shouldn't only post photos with captions. Using features like Instagram Stories and video content, and using relevant hashtags prospects might be searching, makes your brand difficult to ignore.
Feature your products. While the point of social media isn't to be sales-y, the visual nature of Instagram makes it more acceptable to showcase products. For instance, a manufacturing company specializing in custom packaging equipment would be smart to feature some of their products, and encourage visitors to "request a consultation" at the end of the caption.

Promote events. If you're hosting a webinar, for example, Instagram can be a great resource for posting a reminder of the event date and time, along with a registration link. Similarly, if you're attending an industry conference or trade show, consider posting pictures from the event, your team, and products (if you're showcasing them at a trade show). Most of today's conferences have a specific hashtag associated with the event, so you'll also want to include these in each post.
Instagram is the ideal social network to display company culture, but whether it's through a product demo or relevant hashtags, there are tangible ways to tailor posts to prospects.
The Future of LinkedIn and Instagram for B2B
While LinkedIn has established itself as a platform for B2B lead generation, there's reason to believe Instagram could challenge Facebook and Twitter in the near future. Users can easily find themselves in "filter bubbles" on the latter two networks, but LinkedIn's professional nature and prospecting tools, along with Instagram's less crowded B2B space make both networks ideal for reaching potential customers.
Look to these tips as you solidify your social media plan for 2017 and learn more about generating leads through social media by downloading our free eBook below.